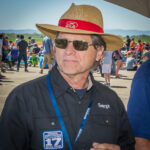 June has gone down as another good month for our members where lots of aviation activities took place, from fly-ins, to ADS-B seminars. We still need to get more members involved if possible in future activities.
I would like to see more ride swapping for example between our pilots and offering rides to our members that are still grounded due to their building projects. Jim Pearce drove over to my airstrip and I took him for his first ride in my Grumman Traveler and he took me up in his Cessna Centurion. We flew in my aircraft to RKW where his aircraft is hangared and then we flew in his Centurion to Crossville and shot an IFR approach back into RKW. It was enjoyable for both of us to experience different aircraft and pilot procedures.
So far we have at least seven of our members going to Oshkosh next month. I will be flying with Jim Pearce, who will be joining the Cessna mass arrival into Oshkosh on the 23rd. That should be a neat experience and lot of fun in itself. I have been invited as your president to attend a president's dinner and reception hosted by the Ford motor company. This was the first letter that I have received from a car company that was a positive instead of a recall or trying to sell me a new car. Make sure you contact me ASAP concerning our designated chapter camping area if you are attending Oshkosh this year.
Hope to see you all at the August meeting where we will recap some of our Oshkosh experiences, as well as the AirCam, dope and fabric, and RV14 presentations.
George