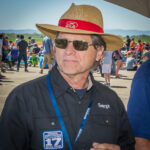 May weather finally allowed us to hold a very successful Young Eagles rally at Downtown Island Airport. We had 100 kids registered to take their first flights, but only 63 showed up and flew for the first time in their young lives.
The parents were just as excited as the kids. This was my first Young Eagles event and I got to take 7 kids up myself.
Our chapter is very fortunate to have Gordon and Karen Meyer who have run this operation for the last 5 years like a well-oiled machine. We had an excellent group of ground crew volunteers to assist them. It takes many support players to make a safe and successful event like this happen. I was researching how many kids our members have flown and discovered that one of our members have taken over 600 kids up so far. Let me hear from you if you know who this pilot is.
For June's meeting I have scheduled Jim Pearce to give us a presentation about Drones including a demo flight over Sky Ranch, followed by Albert Robinson sharing info on his RV10 build, Adam Tippin presenting his info on his KR2S build, and if enough time I will talk a little about my RV7 project.
We have added a couple of new sections for our newsletter called (Ask your President) and one called (Safety Tip of the Month). Please contact me with any questions and or suggestions that I can put in future newsletters. My phone and or email are always standing by so don't think you can only ask or suggest your ideas or thoughts through our newsletter. I am looking forward to seeing all of you soon on June 6th at our next meeting.
George