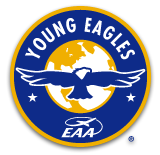 Give your child the gift of flight
Since 1992, more than 1.9 million Young Eagles have enjoyed a flight from EAA's network of volunteer pilots. For many, it was the start of their journey to becoming a pilot, aircraft mechanic, air traffic controller, or many other career possibilities.
If you're between the ages of 8 and 17, then you're ready to take a free Young Eagles flight and see what real pilots do on the ground and in the air.
Complete the form below to register for this life-changing experience.
Click here to learn more about Young Eagles
---
Registration Form
[contact-form-7 id="331″ title="Chapter 17 Young Eagles Registration Form"]
---