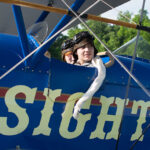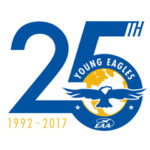 2017 is a special year. It is the 25th anniversary of the EAA Young Eagles Program. This program is the perfect opportunity to inspire and educate the next generation about the possibilities of aviation and the joy of flight. Please consider volunteering to help EAA Chapter 17 make a difference in these young children's lives.
The focus of the May 1st Chapter 17 gathering will be to discuss the upcoming Young Eagle Event. Preparations continue for the May 13th event at Knoxville Downtown Island (Rain Date May 27th).
Currently we have over 40 Young Eagles signed up and we expect that number to increase as the event nears.  We also have 8 pilots, 6 ground crew, one Airboss, and possibly 2 ground school instructors that have volunteered.  We would like to ask that all volunteers check-in at the registration table in the hangar by 8:00 to pick up packets and sign paperwork. Volunteer briefings will begin at 8:15.