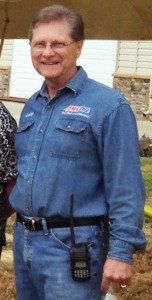 As we move into the spring season it is a happy time for us Aviators. Better weather makes for nicer flying and more of it.
Keep in mind that we will not be holding our regular meeting for April, as it is going to be a busy month for our chapter members. The first week will be the annual Sun 'N Fun event in Lakeland Florida that several of us will attend and then the following weekend many of us will be involved with the Smoky Mountain Air Show.
Through our volunteer efforts at his event we will have an excellent opportunity to educate the general public about the EAA and also a chance to recruit new members for our chapter. While on the subject of recruiting, many of you may not be aware that we can offer free trial EAA memberships for people that have not had a membership in EAA national for at least the last 3 years.
Contact me for more info on this or go to www.eaa.org/chaptertrial.
Remember my challenge to all of you to recruit at least one new chapter member this year, so wear your colors (chapter patches and name tags when out in the public especially around airports). My goal this year is to outgrow our present facility and to make our chapter one of the best in the nation.
For those of you attending Sun 'N Fun I will be holding a tail gate party at my motorhome in the campgrounds. The evening for the cookout will be determined once I hear from those attending. My cell phone is 321-663-5391 and email is george@oilhelp.com and also I can be found at my Amsoil Synthetics tent in front of vendor Building "A" from 9am to 5pm each day. Hope to see many of you down in the warm sunshine, as well as at TYS at the SMAS.
In addition to the new members listed in Jerry's report, I'd like to welcome Jairus Hines. He signed up on line last week and he just purchased a Mustang II kit project.
George